26 Feb 2020
Winners of the 2020 UK OSPAs announced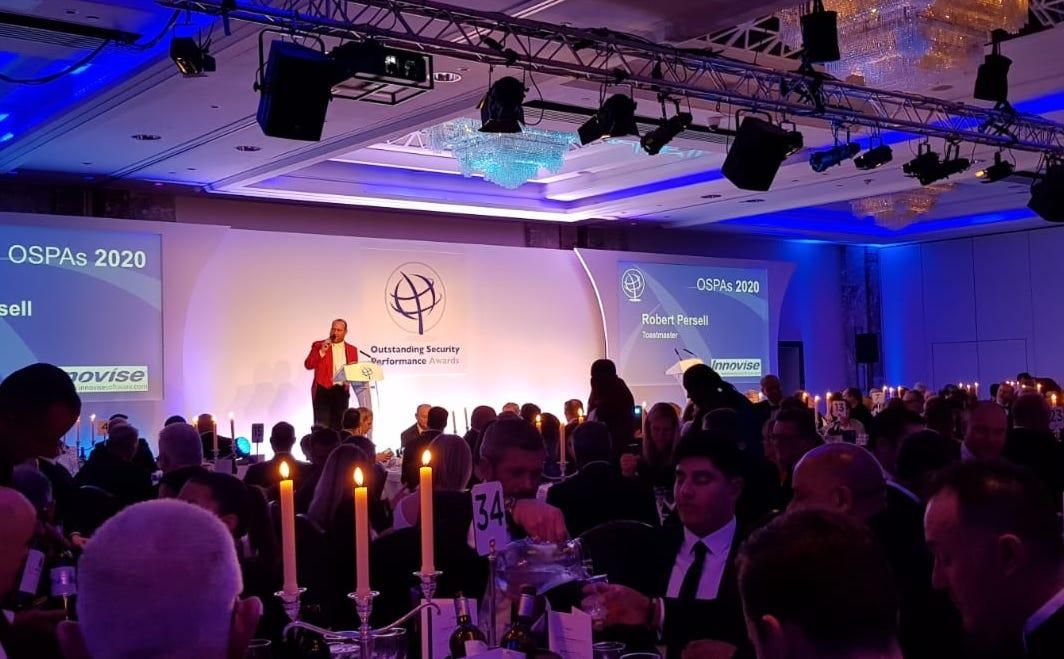 The fourth UK Outstanding Security Performance Awards (OSPAs) event, sponsored by Innovise, took place at the Royal Lancaster in central London on 26 February.
Around 450 security professionals gathered to celebrate the very best from across the sector. The OSPAs were presented in 15 categories and hosted by stand-up comedian and renowned Quiz Master Paul Sinha – also known as 'The Sinnerman' on ITV1's The Chase.
OSPAs founder Professor Martin Gill commented 'The standard of nominations received this year was again extremely high, making the job of selecting the winners particularly challenging for the judging panel. All winners and finalists should feel very proud.'
Gill continued: 'It is important we recognise these achievements. This and showing the world the valuable work that is undertaken by the security sector are central principles of the OSPAs. They are the cornerstone of the growth of the awards across the world.'
The 2020 UK OSPA winners are:
Outstanding In-House Security Manager or Director
Clint Reid - Marks and Spencer
Outstanding Contract Security Manager or Director
Nav Kalley – Mitie
Outstanding Security Equipment Manufacturer
Bradbury Group
Outstanding Security Team – sponsored by First Security
Mitie - M&S Security Operations Centre Team
Outstanding Security Consultant – sponsored by Altia-ABM
IJA (Ian Johnson Associates)
Outstanding Customer Service Initiative – sponsored by Verisure
ProtectED – Code of Practice
Outstanding Security Installer/Integrator – sponsored by NSI
Mitie Fire & Security Systems
Outstanding Event Security Team
FGH Security
Outstanding Security Training Initiative
Kingdom Services Group – Skillcentre
Outstanding New Security Product – sponsored by International Security Expo
Merlin Protect 24/7 - Mitie Security
Outstanding Security Partnership – sponsored by Ward Security
Clinical Liaison Nurses (Security) – Mersey Care NHS Trust
Outstanding Young Security Professional – sponsored by ADS
Amy Stanley - FGH Security
Outstanding Security Officer – sponsored by ICTS UK & Ireland
David Rutwaza - G4S Secure Solutions
Outstanding Contract Security Company (Guarding) – sponsored by TrackTik
Mitie Security
Lifetime Achievement – sponsored by The Security Institute
Roy Cooper
The OSPAs supported charity this year is The Security Benevolent Fund; with guests making donations to provide financial or practical support for individuals working in security on the front line who have fallen on hard times and need help.
The event organisers would like to thank all those who have helped to make the fourth UK OSPAs event such a success including: sponsors – Innovise (headline sponsor); Edith Cowan University (trophies and certificates); Audax (drinks reception); Mitie (Security Commissionaire); ADS, Altia-ABM, First Security, ICTS UK & Ireland, NSI, International Security Expo, The Security Institute, Verisure, Ward Security and TrackTik (category sponsors); media partners – AllSecurityEvents.com, Infologue; Professional Security, Security Matters and Risk-UK; and the many leading supporting security associations and groups and their respective judges.