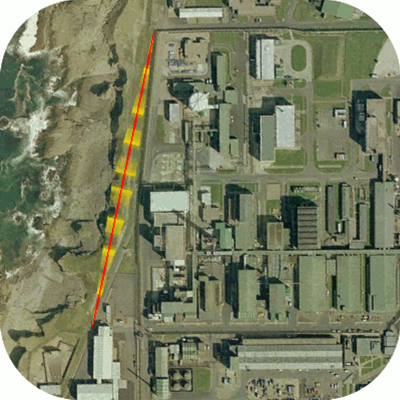 Super-Beam
Dual microwave sensor technology for 24/7 threat detection
Ogier Electronics Ltd is pleased to announce the introduction of its latest affordable long range microwave sensor, Super-Beam. This unique sensor combines the ultra-narrow 'pencil beam' like performance of its microwave fence technology, first seen in its Scan-Beam sensor, with the positional accuracy and PTZ camera control capability of its Scan-Sector radar in the same system.
Two sensors can be spaced up to 400m apart to form a high-performance microwave fence that can take control of multiple cameras slewing them onto targets. Just like the Scan-360 radar it has GPS for positioning and synchronisation. Super-Beam is ideal for perimeter protection and for use along a fence line where parallel traffic is permitted.
For detection ranges below 200m only one active sensor is required. In this case, full functionality of the Scan-Beam system is maintained by using a simple reflector. As with all Scan 360TM security sensors Scan-Beam is IP based using PoE as its main form of power. It is easy to install and simple to configure using the intuitive Graphical User Interface. There are no hidden costs. The firmware to configure and operate is built in and operating at 24GHz it is not only safe, but also license free.
Ogier Electronics design and manufacture professional microwave system solutions. They have a track record in pioneering new technologies to provide innovative and robust solutions across a wide range of radar, video and data communications applications. Performance, reliability and value for money are at the forefront of everything they do.
For more information contact:
enquiries@ogierelectronics.com or visit www.ogierelectronics .com