25 Feb 2021
State of the art access control integrations for an award-winning complex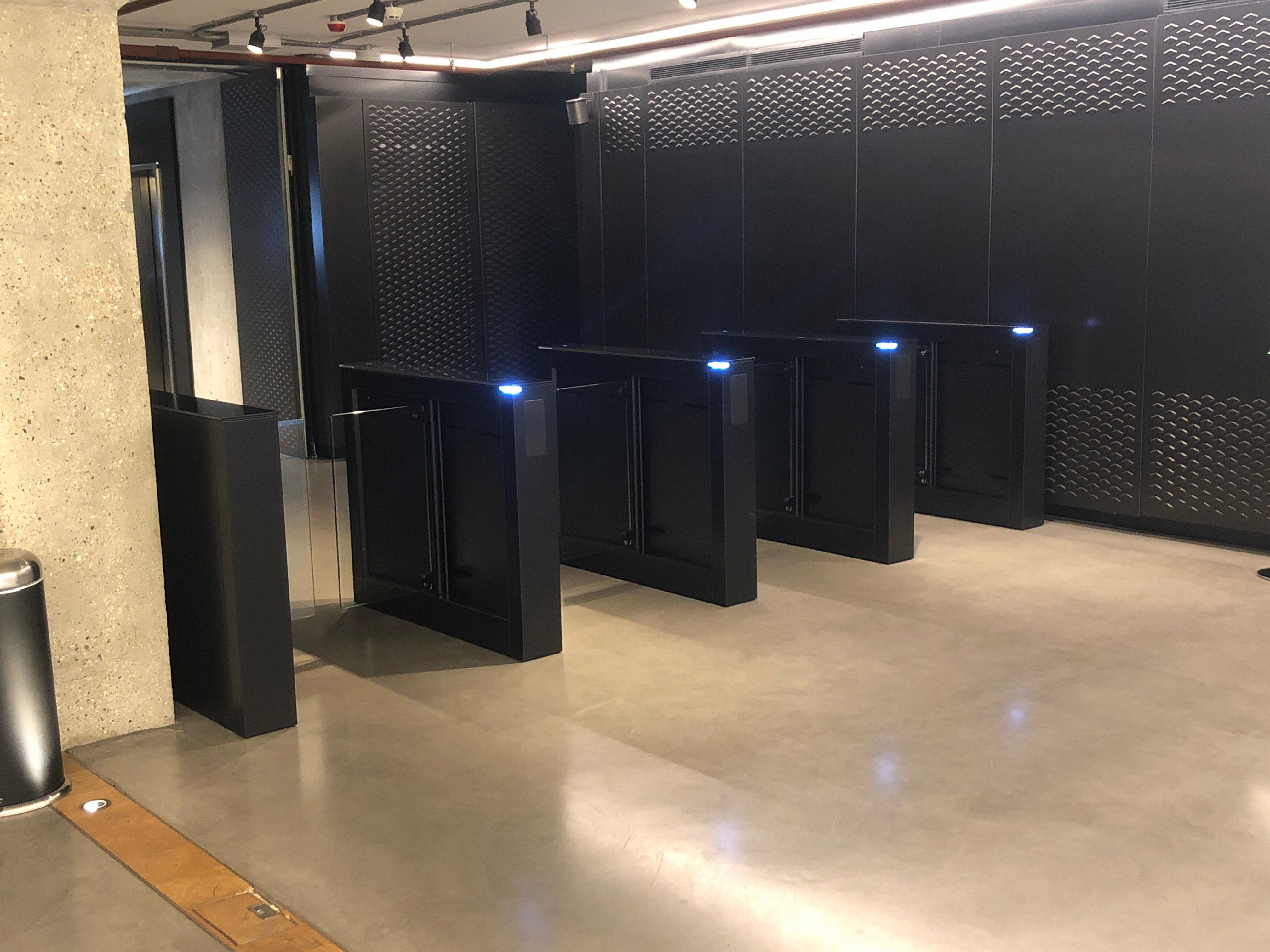 The Bower is a new, beautifully designed mixed-use development in London created by developers Helical plc and award-winning architects Allford Hall Monaghan Morris (AHMM), the team behind some of the most iconic and inventive buildings in London.
Consisting of three modern spaces - The Studio, The Warehouse and The Tower - The Bower was conceived as the centre of a community which thrives on creativity and innovation. The 320,000 sq ft development offers a contemporary environment for businesses as well as being a vibrant restaurant and retail destination.
Companies occupying The Bower are forward-thinking and technologically advanced, so this prestigious development required an entrance control solution to match its tenants' high standards and security needs. Working with SecureWais, specialist providers of bespoke integrated security solutions, Fastlane turnstiles were the only entrance control option for this project, and customised Fastlane Glassgate 250 turnstiles have been installed at two entrances within the building complex.
Allan B Waisman, Group Chief Executive Officer, of SecureWais commented: "I find the team at IDL incredibly helpful and accommodating, especially when it comes to customisations. The fact that their products are all manufactured in the UK puts my mind at ease, and if anything needs to be adapted the work is carried out locally without long and time-consuming processes. Also, unlike other manufacturers, you can even visit the manufacturing facility to check on progress."
Flexible access control integrations
As pleasing to the eye as it is simple and intuitive to use, the Glassgate 250 features a slightly wider pedestal which allows greater flexibility when it comes to integrating third-party access control systems. This was a key requirement for this particular project, as many of the building's business occupiers have other offices located elsewhere – both in the UK and globally - each with their own existing access control systems and ID cards.
To enable employees to use their existing cards when accessing the premises, the turnstiles have an integrated access control system capable of reading different types of card technologies. In order to maintain card encoding encryption, SecureWais facilitated a high-level association between two major manufacturers, to share critical card format data. In addition, and in order to allow for tenant database separation, a Card Reader data splitter was also installed to allow the option of card reader data from the turnstiles to be sent to each occupiers' own database for validation and to allow or deny access.
Managing visitor access
To facilitate a seamless visitor experience, a boarding pass Visitor system is in place. When a visitor is expected for a meeting at The Bower, they receive an email invitation from their host. This invitation includes QR code, or 'boarding pass', which can be presented to a turnstile for scanning. The QR code allows the visitor entry through the turnstile just before their meeting is due to start and notifies the meeting's host of their arrival. The QR code expires after the meeting has finished, meaning that the visitor can not attempt re-entry at a later date, unless it is a multiple-day visitor pass.
This level of integration is becoming quite common in the new age of smart buildings. John Austin, IDL's Regional Sales Manager for London, commented: "An increasing number of buildings, particularly multi-tenanted buildings, are using these types of barcode and QR code integrations to streamline their entrance control processes. These kinds of integrations mean that authorised users – whether permanent occupiers or temporary visitors – enjoy a smooth and hassle-free experience when entering their place of work, without the need for staff intervention. The system installed at The Bower is a perfect example of how entrance control can work efficiently without being imposing, and without compromising security."