03 Apr 2019
Redvision X-SERIES™ PTZ cameras are used by Graham Firth Communications in the new, M62, traffic management system for Highways England.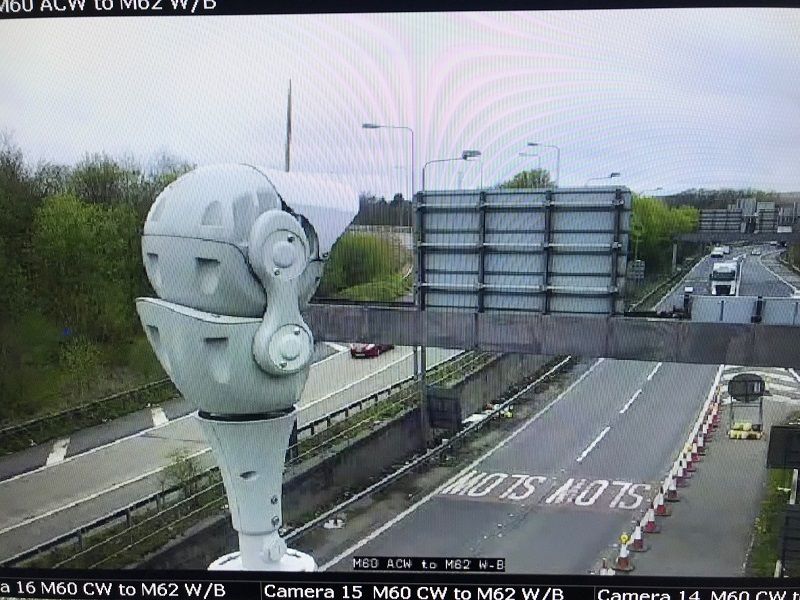 Graham Firth Communications Ltd is a security integrator specialising in the design, installation, maintenance and management of temporary CCTV systems for Highways England. The company is involved in many major motorway improvement and maintenance projects across the UK, often with 24/7, remote monitoring included.
Highways England (formerly the Highways Agency) is a government-owned company which operates, maintains and improves England's motorways and A roads. It is responsible for traffic management CCTV systems and on-road signage, as well as providing real-time, web-based, traffic information to traffic officers and the public on its Traffic England website. The prime purpose of the new CCTV system is to manage signage and vehicle speeds to avoid congestion. However, Highways England is also accountable for all incidents on its road network, so is constantly reviewing ways to improve road safety, including through its systems, products and processes.
Stephen Lightfoot, technical director at Redvision, said, "The traffic management system comprises seventy Redvision RV30, X-SERIES rugged PTZ dome cameras. These were supplied to Graham Firth Communications through our distributor, Videcon Ltd. A Digifort, open-platform, Video Management System, which runs on high-resilience, DELL servers, is used for recording and control. Digifort's free client software is installed on DELL PCs in the system control room where there is a video wall comprising sixteen monitors configured in multi-screen, alarm screen and report screen modes. There is also a dedicated, fibre network infrastructure, with a massive bandwidth and low latency, to ensure the X-SERIES™ cameras are accurate and responsive for operators over the large distances involved. Impressively, Videcon's systems division helped Graham Firth Communications with the project design, specification and commissioning."
The RV30, X-SERIES™ rugged PTZ dome cameras, used throughout the system, are manufactured in the UK by Redvision. They are finished with marine-grade plating and a tough, powder-coated paint. They are IP67 weather-proof rated, as well as shock and vandal resistant and come with a wiper to remove dirt, grit, salt and rain from their optical, glass, camera windows. This makes them the ideal cameras for the tough, outdoor surveillance requirements of motorways.
The X-SERIES™ cameras are also easy to install, upgrade, replace, repair and service, with a Mean Time Before Failure (MTBF) rating of 7 years. This makes costly, unplanned, on-site failures unlikely. Redvision also offers a back-to-base repair service should any cameras go wrong.
Stephen added, "The Digifort VMS system used in the project was selected for its intuitive, logical and easy to use front end. It allows the camera channels to be individually configured for each operator in the monitoring station. Motion detection is used to trigger alarms, 'bookmarking' the video timeline for subsequent, efficient searching and retrieval of video. This helps operators identify and respond to incidents in real-time, such as when there is traffic congestion or an accident.
"Unlike most VMS platforms, Digifort has no annual maintenance fees, so has no on-going overheads. Analytics can be added in future for further system intelligence; these include functionality like tailgating, vehicle counting, presence, enter/exit, appear/disappear, direction filter, speed filter, stationery, loitering, abandoned object and removed object. Further add-on modules include License Plate Recognition (LPR); Briefcam Synopsis; Facial Recognition; Edge Recording; and Edge Analytics. This means there are no limits to a system's upgrade flexibility."
The combination of Redvision rugged PTZ cameras; Digifort VMS and analytics software; and Videcon's system expertise has provide Graham Firth Communications and Highways England with a robust and reliable motorway solution. This combination of products is now being rolled out across many other motorways in England.