14 Jan 2021
Kansai International Airport Deploys Person Tracking Sensors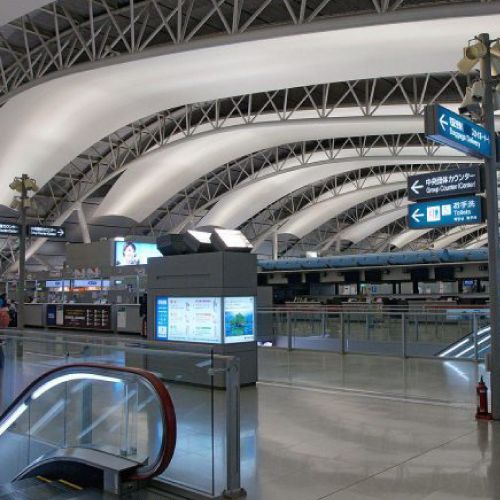 Kansai Airport Simplifies IP Sensor Deployment using NVT Phybridge PoE switches, saving over $75,000
Kansai International Airport Deploys Person Tracking Sensors In Airport Terminals Using the NVT Phybridge FLEX24 SwitchKansai International Airport, located near Osaka, Japan, was opened over 20 years ago and is now used as a gateway into Japan. Overcrowding in the international terminals had become a significant issue, causing a need for Person Tracking Sensors to monitor traffic within the airport. The proposed system would include over 250 sensors, allowing for real-time tracking of individuals throughout the airport without facial authentication. This would help the airport manage the flow of traffic in congested areas and operate more efficiently. However, long reach requirements, time constraints, and business disruption posed significant barriers to deploying the new system.
Problem
Kansai Airport needed to manage traffic flow within the busy airport and planned to install state-of-the-art Xovis sensors. However, the project presented several barriers to the 24-hour operation that serves over 25 million travelers per year. Each sensor covers a range of 100m2 and needed to be mounted on the ceiling. The international departures terminals (where many of the sensors would be placed) had exposed steel beams as opposed to a closed ceiling. Even though the sensors could be installed on the steel beams, there were no outlets for local power or switch relays. Many desired sensor locations far exceeded the 100m range of standard Ethernet switches, and there was no way to install the switches any closer to the sensors. The customer needed a robust and straightforward solution to deploy the sensors without high costs or business disruption.
Solution
Reseller Nissho Electronics introduced the NVT Phybridge FLEX24 switch to decision-makers at Kansai Airport, a year before the project's outset. When the time came to find a networking solution, the FLEX24 switch was the clear choice. The FLEX24 switch delivers Ethernet and PoE++ over multi-pair UTP wire with up to 2,000ft (610m) reach – that's six times farther than standard Ethernet switches. The airport decided to engage in a no-obligation proof of concept to test the technology in their environment.
The FLEX24 switch quickly eliminated the project's complexities and frustrations, providing the flexibility to enable the sensors six times farther than standard solutions, with no extra IDF closets required along the way.
Result
"Without the FLEX24 switch, we would have had to change the entire deployment plan. However, we used the FLEX24 solution to install the sensors using the existing CAT5 wiring infrastructure, allowing us to finish the project much faster and at a significantly lower cost," said Yuji Taniguchi – IT Department Project Group, Kansai Airport Co., Ltd. According to Taniguchi, the airport was able to complete the installation in just three months, experiencing minimal disruption to its 24-hour operations and saving over $75,000. The FLEX24 Power over Ethernet switch facilitated a smoother and more efficient deployment of the IP sensors in both the Arrivals and Departures terminals. "If you compare the cost of the FLEX solution to the cost of installing optical wiring and power supply outlets, it is clear that FLEX allowed for a much more cost-effective installation and shortened the deployment time greatly. The FLEX24 switch solved all of the problems we had regarding the installation," commented Taniguchi. "An additional benefit we realized was the long reach capabilities of FLEX24 switch, which helped us reduce IDF closet requirements by 90%, simplifying and reducing the costs to establish backup power in the case of a power outage."