03 Mar 2021
Hermes Investment Management chooses Fastlane to secure refurbished Ascent 1 building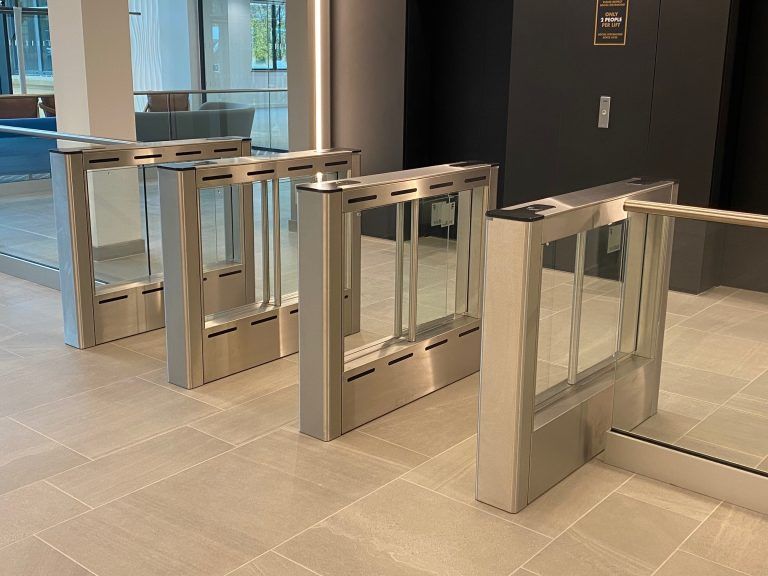 Designed by Hale Architects and owned by Hermes Investment Management, the restored Ascent 1 building within Farnborough Aerospace Centre features a striking newly-created 2,200 sq ft atrium, along with a full height entrance façade and enhanced reception area. Providing 75,000 sq ft of contemporary office space for multiple occupiers, accessed via a welcoming open plan entrance lobby, the architects and main contractor Mica Project Ltd were tasked with sourcing an entrance control solution which could both monitor and control access, and complement the contemporary interior.
Working with Syntinex Ltd, one of our key partners and the integrator responsible for the successful delivery of this project, seven Fastlane Glassgate 150 turnstiles were installed in the entrance lobby to ensure that only authorised individuals are granted access to the lifts and offices beyond the reception. Five of the swing-action, bi-directional dual glass barriers were provided at a standard lane width of 660mm, with two lanes at a wider width of 914mm to allow disabled access compliant with DDA regulations. Remote controls were provided to allow the reception staff to remotely open and close the lanes as required, and the existing access control and fire systems were also integrated.
With sustainability at the heart of Ascent 1, energy usage was a consideration for the building owners. Fastlane products consume little energy, only 337kW hours per annum on average, so they also had a small part to play in helping the building achieve a BREEAM rating of Excellent and an EPC rating of B.
Commenting on the project, Jacques Lombard - Managing Director at Syntinex Ltd – said: "Integrated Design Limited (IDL) is our go-to entrance control partner for a number of reasons. Their Fastlane range of turnstiles is superior in functionality and aesthetic appeal, and offers variety in terms of barrier heights and security levels, with a range of customisation options also available. I have dealt with other entrance control manufacturers over the years and find IDL easier to work with. Their products are simple to install and use - and they are therefore favoured by my team and the end users - and the people at IDL are also more approachable.
"For me though, one of the main appeals of working with IDL and Fastlane products is that they are manufactured in the UK. With Brexit on the horizon, as IDL is a UK company I'm guaranteed that my services can still continue when using their products."
Phil Allen, Regional Sales Manager UK & Ireland at Integrated Design Limited, adds: "The Glassgate 150 offers a stylish, compact and cost-effective option, alongside the very latest in high tech entrance security, so it was the ideal model for this project. Featuring sleek materials, such as a stainless-steel enclosure, glass spine panel and glass pedestal height swing barriers, the Glassgate 150 has been well received by the building owners and users alike. To finish the project off beautifully, Syntinex also installed around 30m of bespoke glass balustrading to match the style and height of the turnstiles. It was a great project to work on, and I look forward to many more like it."