03 Mar 2022
Hanwha Techwin previews the Top 5 Video Surveillance Trends for 2022, focusing on cutting-edge technologies from AI, edge-computing, to the cloud.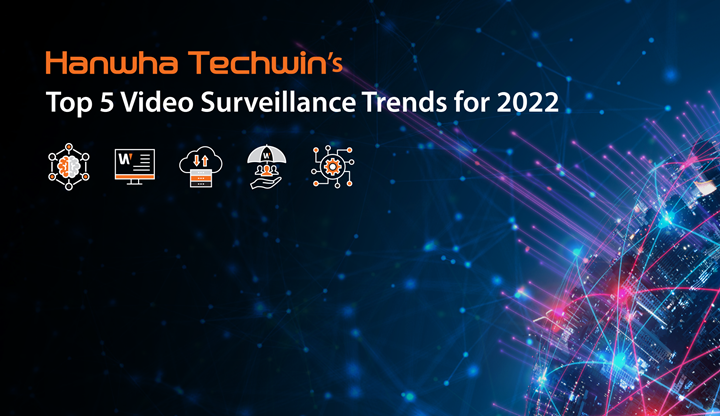 AI edge computing / analytics: the proliferation of data and analytics is driving business decisions:
Surveillance and security solutions are increasingly incorporating on-board analytics to deliver data that can drive intelligent protection and monitoring. The role of on-board analytics will continue to expand significantly in 2022 and beyond, as customers combine edge computing and AI to achieve enhanced monitoring and search efficiency.
One industry report predicts that the total global edge computing infrastructure will be worth more than $800 billion by 2028. The use of AI at the edge, especially with analytics based on deep learning algorithms, will form a key element in a range of "smart surveillance" applications. These include object detection and classification as well as the collection of attributes in the form of metadata – all while reducing latency and system bandwidth requirements and enabling real-time data gathering and situational monitoring.
AI and edge computing will continue to improve the efficiency and effectiveness of network video surveillance systems, applying analytics (object, loitering, virtual line and area crossing, detection to name a few) to monitor every type of area or situation. With AI and edge computing enabled by cameras being used across vertical sectors, users can conduct 'pre-emptive detection' and rely less on reactive monitoring - increasing safety and efficiency.
Hanwha Techwin's solution:
Wisenet P and X series AI cameras employ AI and deep learning technology to detect only user-defined data for effective forensic search and enhanced operational efficiency. AI and deep learning algorithms disregard movements of unwanted objects such as shadows, animals, or trees swaying in the wind - greatly reducing false alarms. Hanwha Techwin continuously invests to strengthen its AI edge computing capabilities.