02 Mar 2021
Fastlane's Glassgate 150 selected to protect and secure the Red Bull head office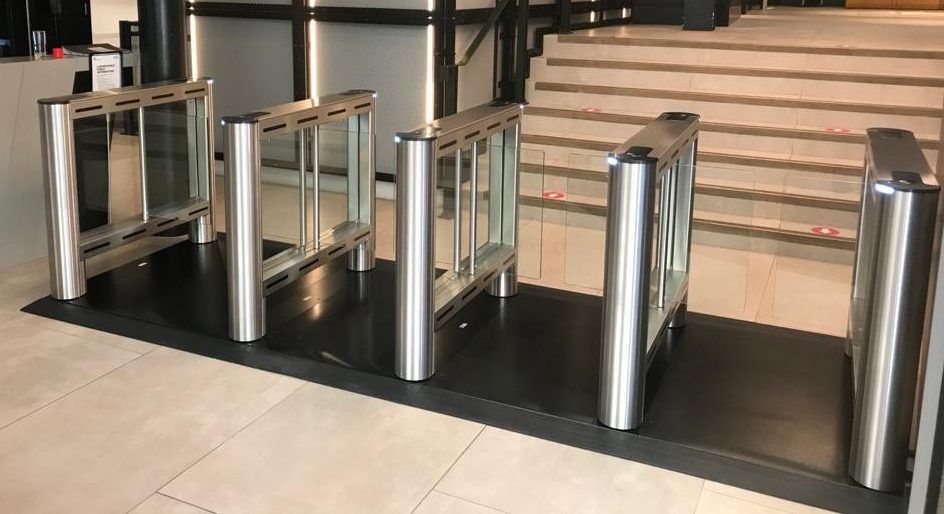 The Red Bull office buildings are well known for their high concept interiors and creative architectural design, and their new head office in London is no different.
Following their move into a newly refurbished office building in Covent Garden, Red Bull identified the need for stronger security measures at the main entrance, which had previously had an open-door policy. The three main requirements they outlined for their entrance security system centred around:
Putting a stop to unauthorised public access, which was proving to be an issue since taking over occupancy of the building
Ensuring there was a physical deterrent to unauthorised individuals when entering the building, with the objective focused on maintaining a safe, welcoming environment without it being intimidating
Installing a system which complemented their brand aesthetic
The project specifications were confirmed prior to COVID-19, and it became clear in the wake of the pandemic that the security measures were capable of serving a dual purpose. Not only were the turnstiles required to monitor and control footfall, they would also provide a barrier to physically stop anyone who hadn't had their temperature checked from entering the building. The temperature checks will currently be carried out independently, with the access control system manually operated by reception staff, either permitting or denying entry as appropriate.
John Austin, Regional Sales Manager at IDL explains: "Four lanes of Fastlane Glassgate 150s were chosen to protect Red Bull's new office. The turnstiles were supplied using stainless steel with a brushed stainless steel finish, featuring glass panels with dual swing glass barriers and the integrated touchless card reader. The sleek design of the turnstiles is in keeping with the brand, providing a strong security presence without being imposing.
"Should Red Bull require additional security and health screening measures in the future, the system has the capacity to be upgraded further to integrate facial recognition systems, or other bespoke modifications."
The Glassgate 150s were installed on a floor protector system, which was specified due to the recent refurbishment of the building and the requirement to avoid causing any damage to the existing flooring. Using the floor protector system was the perfect solution, avoiding damage to the floor, concealing all cabling and providing a seamless finish which looks like part of the refurbishment.
Being mindful of safety and building occupation limits during the pandemic, the entrance control system was installed by ProLogic Systems Ltd over a weekend, both to avoid disruption to the employees working in the office and ensure social distancing guidelines could be adhered to.
Paul Wilson from ProLogic Systems comments: "We have worked with IDL on several projects, and for each one they assessed the needs of the project and manufactured a solution that suited its needs perfectly. Having such positive prior experience with them meant they were an obvious choice when we started working with Red Bull. Their support, service and communication are second to none, and their Speedgate turnstiles are superb. From the initial enquiry through to installation and ongoing support, they are a real pleasure to work with."