01 Jul 2020
CCTV Logbook Goes Live – don't miss out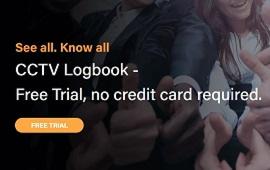 CCTV Logbook, the online tool to help manage CCTV systems more easily, is now live.
Whether you are a business owner or manager, Head of Security, IT manager, HR manager or data controller you could benefit from CCTV Logbook. We are offering a 30-day free trial so users can test it out and understand how it can help them.
Signing up for the free trial couldn't be simpler just follow the link (https://cctvlogbook.com/account/register) and complete the free trial sign up form, once the verification email has been received and the account has been activated users can login. When users are logged into the portal, they will find an easy-to use-interface allowing users to add in CCTV System information initially and update it overtime.
If users would like to subscribe to CCTV Logbook after the trial, they can retain the data they have input whilst in their free trial account. We have three main packages – Basic, Standard and Enterprise – starting at less than £10 per month.
As business owners and/or building owners are responsible for the CCTV system they have installed in respect of their data protection obligations we would also recommend upgrading to include the compliance module. This provides subscribers with a full CCTV Compliance system that has been devised from the best practices guidelines from the Surveillance Camera Commissioner.
Signing up to CCTV Logbook will help users benefit from having a better managed CCTV system which should save them money in the long-term as well as being more assured they have a compliant system.
For more information contact Nicky Ayers,
nicky@cctvlogbook.com