22 Jun 2020
Abloy goes digital with first virtual exhibition to feature new products
Abloy UK has unveiled plans to hold its first ever virtual exhibition, 'Keyvolution', which will take place online on 8th July.
With many exhibitions being postponed or cancelled in 2020, this initiative has been

organised to meet the demand for online advice and information in the security industry, and aims to help visitors resolve current security issues and adapt for future needs to ensure their building's occupants and assets remain safe and secure.
The digital event will showcase innovative new products including ASSA ABLOY's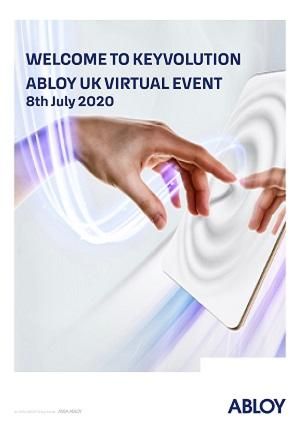 Incedo™ Business - a new access control system that incorporates software and hardware into a single management platform that is ideal for small to medium businesses. Incedo is an access control system that can adapt to a business' individual security needs, so they can benefit from one system that links all security solutions a building may have, and integrates them into one easy to manage system.
The virtual exhibition will also feature ABLOY BEAT, the new digital super weather-proof IP68 rated padlock that can be opened using a mobile phone.
Other products on show include Aperio, a wireless lock technology for hands-free door opening, SMARTair, an intelligent alternative to traditional access control systems, and ASSA ABLOY's Aperio® KS100 server cabinet lock which helps you manage, monitor and control physical access to server rooms, racks and drawers.
Meanwhile, to share best practice on fire safety, the exhibition will also cover the Escape Door System, which is compliant with BE EN 13637, and its Electric Locks which are designed to meet and exceed test standards used in most European countries to ensure compliance on panic and emergency routes and dynamic lockdown.
Featuring a range of live webinars, software demonstrations, live chats, videos and downloadable brochures, the event has been designed to help participants resolve short term security issues while planning for the future as the world emerges from lockdown.
Aaron Yule, Managing Director of Abloy UK, said: "With the postponement and cancellation of the major exhibitions in 2020, we wanted to create a digital event that would have something for everyone.
"Abloy is a trusted partner of many organisations, and we are always building upon our heritage with further innovation in high-end security and access control. Now we are adding an exciting new digital dimension to our existing portfolio of mechanical and electromechanical products."
To register for the Keyvolution virtual event please visit https://bit.ly/2YqAHwy

ENDS

Issued on behalf of Abloy UK by Edson Evers LLP, The Hollies, 120 Newport Road, Stafford, ST16 1ET.
For further information please contact Rebecca Cousins at Edson Evers LLP on Tel: +44 (0) 1785 255146 Fax: +44 (0) 1785 211518 or email Rebecca.cousins@edsonevers.com