18 Feb 2022
Works with Nx Integrations Ecosystem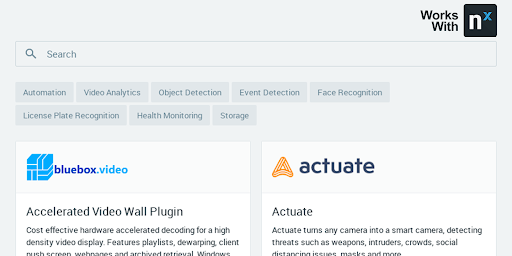 The Works with Nx Integrations Ecosystem is a centralized marketplace for manufacturers, integrators, and end-users to find and promote complementary technologies that work with all Powered by Nx products.
Join the Works with Nx Ecosystem
Get discovered, get promoted on our website and social media channels, and expand your business by promoting your integration to the entire Powered-by-Nx market.
Get Discovered.
10,000+ end-users, integrators, distributors, and tech partners.
Get Promoted.
On the Nx website, social media channels, and Youtube channel.
Grow your Business.
Get leads from the Nx Sales Team for real-world, active projects.
Categories
CCTV & Video Surveillance
VMS
Video Analytics