01 Jan 2020
Integrated PA/VA Solutions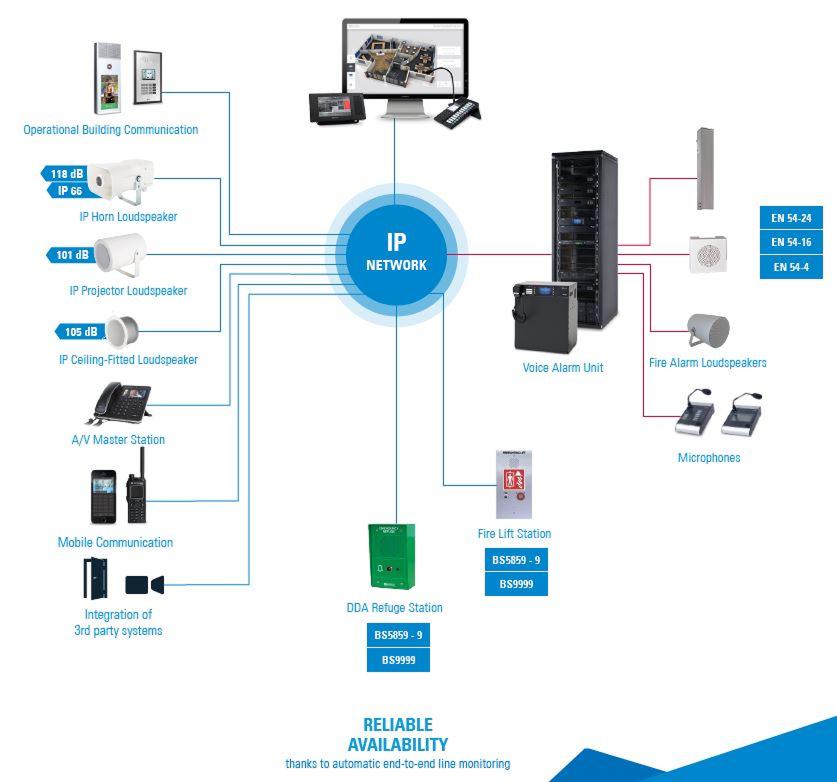 Safe Buildings - Public Address and Voice Alarm
In modern buildings, the need for reliable security technology
is at a record high. Along with security solutions for protection
of assets and values they must provide protection and safety
solutions for vulnerable individuals in everyday situations as
well as in emergencies.
The primary role of a Voice Alarm System is the implementation of essential evacuation functions and communication of a threat occurrence. In normal conditions, Voice Alarm System fulfils the role of Public Address System and is able to broadcast music or public announcements using zone microphones or other connected sources. The system enables the broadcast of messages to selected areas or other infrastructures/buildings in order to inform the public about any occurrences or any potential threat.
The integrated message buffering function enables recording higher priority messages, broadcasting them through already engaged superior sources, loudspeakers and automatically playing them once the line becomes free.
For more than 40 years companies have been benefiting from what we do best; tailored integrated security and communication solutions for the protection of people, buildings and assets, but we especially take pride of the role we play in ensuring people's safety in any building.
Voice Alarm System
Emergency situations require the perfect combination of high-standard technology and an easy to master user interface. COMMEND Security Communication Systems provide Unified Emergency Communication solutions where staff are able to use the same familiar control equipment which they utilise in their day-to-day operations. The system fully complies with a European mandatory standard EN 54-4, EN 54-16 and EN 54-24 (Fire detection and fire alarm systems; Components for fire alarm voice alarm systems; Voice alarm control and indicating equipment), which is also recognised in numerous countries outside of the European Union.