15 Jul 2021
Vi00022 MaxiiView™ Wireless IP Camera setup and PoE Tester Tool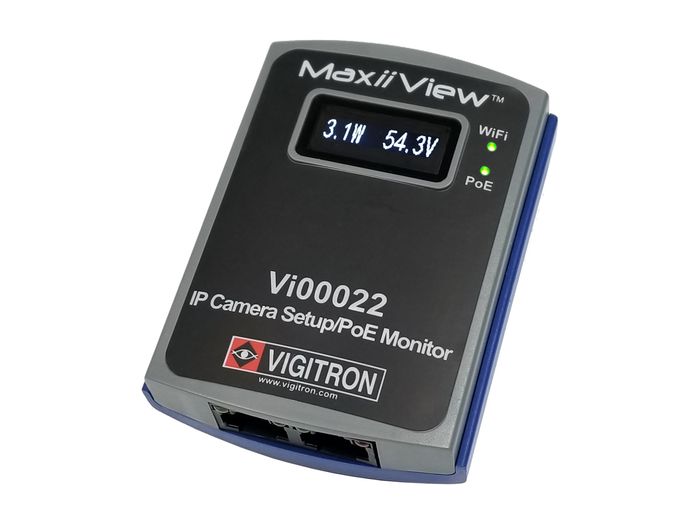 Vigitron's patent pending Vi00022 wireless camera setup tool offers a fast and reliable method for focusing and adjusting the view of IP cameras in the field. The connected IP camera image is transmitted through WiFi connection allowing for quick in-field view of image.
The Vi00022 is platform independent and provides the ability to view IP camera imge on smart phones, tablets or computers operating with Android, iOS, or WindowsTM platforms by entering the connected device's user name and password.
It also provides digital read out of real time PoE voltage and power at the input of the camera taking the guess-work out of installation. The Vi00022 can be connected to any PoE device to view voltage and power at the device input. It is very compact and light that can easily fit in pocket or mounted on the installers belt using its built in belt-clip.
The Vi00022 does not need local power source and uses only PoE power from the network to power itself and the connected camera.
The Vi00022 is an ideal IP camera installation or debugging tool that saves time and money in installation of IP cameras.
Categories
Access Control
Door Entry / Intercom
CCTV & Video Surveillance
VMS
Video Analytics
Home Automation
Smart Buildings
Perimeter
IT & Cybersecurity