13 Mar 2023
Ultrastar DC HC570 SATA HDD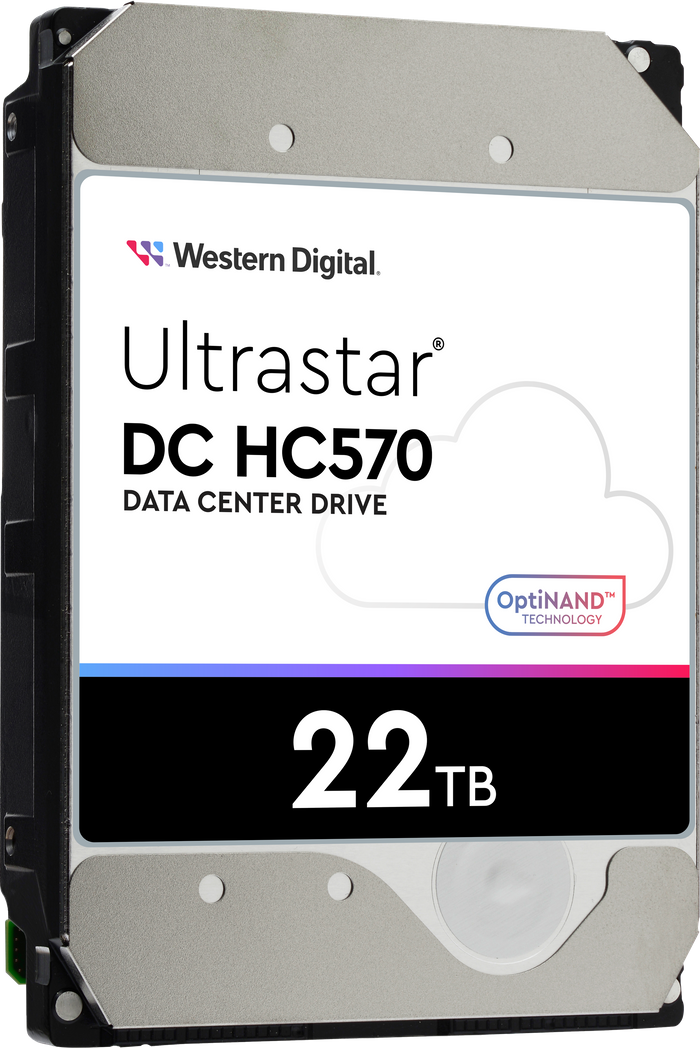 22TB to Fuel Data Center Expansion
The explosive growth of data from AI/ML, 5G networks, IoT, connected vehicles, and more is fueling growth in data centers. HDD innovation drives the ability to capture, store, analyze, and protect much of this data. Higher-capacity HDDs deliver higher data density, enabling data center expansion and efficiency.
The Ultrastar® DC HC570 22TB data center HDD with OptiNAND™ technology is the next leap in data density. This 22TB data center HDD enables an incredible 22.44PB of raw storage in a typical rack*. This higher volumetric density allows data centers to maximize their storage, especially in footprint- and power-constrained environments.
The Ultrastar DC HC570 combines several industry-first technologies on a 10-disk CMR drive, delivering the performance, quality, and reliability that data center customers require.
*Configuration: 42U, 10x 4U JBOD, 102 drives/chassis
Low Power for Lower Operating Costs
Ultrastar® HDDs are designed for optimal power over a variety of workloads. The DC HC570 features low power sequential read/write and mixed random read/write workloads.
OptiNAND™ Technology Benefits
The Ultrastar® DC HC570 is the 2nd-generation platform with OptiNAND technology, which integrates an iNAND® Universal Flash Storage (UFS) Embedded Flash Drive (EFD) with traditional spinning disk media.
Western Digital's 2.2TB/disk areal density leadership is extended to a new 10-disk platform, delivering 22TB capacity with CMR recording format. More disks and high areal density work together to maximize data storage efficiency.
OptiNAND improves drive resiliency in the event of an emergency power off (EPO) by increasing the amount of non-volatile memory (NVM) available to flush critical metadata to the iNAND.
ArmorCache™ is a feature enabled by OptiNAND that combines the performance of write cache enabled (WCE) mode and the data protection of write cache disabled (WCD) mode, offering the best of both scenarios. When operating in WCE mode, ArmorCache ensures that the DRAM cache will be safely written in event of an EPO and no data is lost. When operating in WCD mode, the drive will ensure that all user data in DRAM is safely written upon EPO, and the drive will operate with WCE-equivalent performance. Performance and data protection are now identical across both WCE and WCD modes.
Trusted Reliability and Quality for Data at Scale
The Ultrastar® DC HC570 meets modern data center reliability requirements with 2.5M MTBF2 (projected) and a 5-year limited warranty. It is performance-optimized for heavy application workloads and is designed to handle workloads up to 550TB per year. It offers security and encryption options to help protect data from unauthorized use, including SED models.
Trust Western Digital and the Ultrastar DC HC570 hard drive to deliver the highest capacity and greatest value for your data center.
Categories
CCTV & Video Surveillance
Video Analytics
IT & Cybersecurity