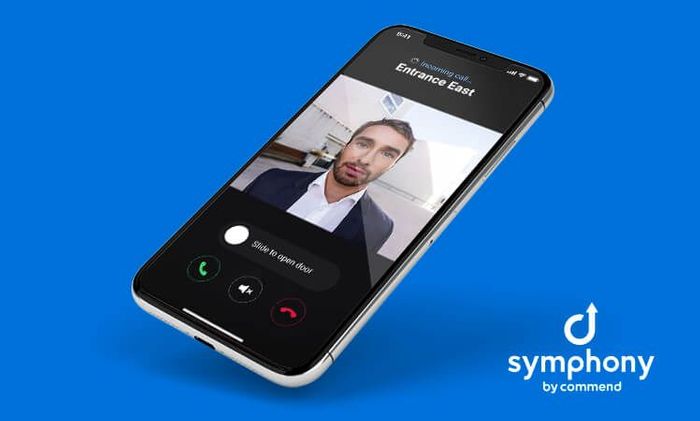 Symphony – the first-ever cloud-based intercom platform built around the principle of 'privacy and security by design' – marks the beginning of a new era in building communications. Symphony conducts and coordinates digitally networked cloud services to make buildings smarter and more secure, both in everyday situations as well as in emergencies.
The service makes everyday life easier for residents and businesses in buildings whilst at the same time simplifying management for the owners. Door calls can be answered conveniently with a smartphone, doors can be opened from anywhere, and everything is conveniently organized either online in the App or in the management dashboard from a web browser; thus, offering maximum flexibility with maximum security.
Advantages for Residents and Companies
Never miss a door call again. You can conveniently answer the call on your smartphone and open doors no matter where you are.
Push-Messages.
Video display of the people at the front door.
Unlock doors from anywhere using pin codes, TouchID or FaceID as a protective measure.
Easy management of users so that colleagues on the business campus or family members in apartment buildings can also use this service.
Support for multiple buildings, doors and call groups.
Advantages for Operators and Owners
Easy management of tenants via the App or online in the browser.
No manual exchange of name tags in bell panels is necessary on-site.
Mobile door call communication as an additional service offer for tenants.
Quick and easy set up e.g. auto discovery of the Intercom stations.
System with focus on IT-Security and Privacy.
Creation and management of call groups and call buttons simply in the App.
Centrally manage and share users and rights.
Categories
Access Control
Door Entry / Intercom
CCTV & Video Surveillance
Video Analytics
Smart Buildings
Perimeter
IT & Cybersecurity